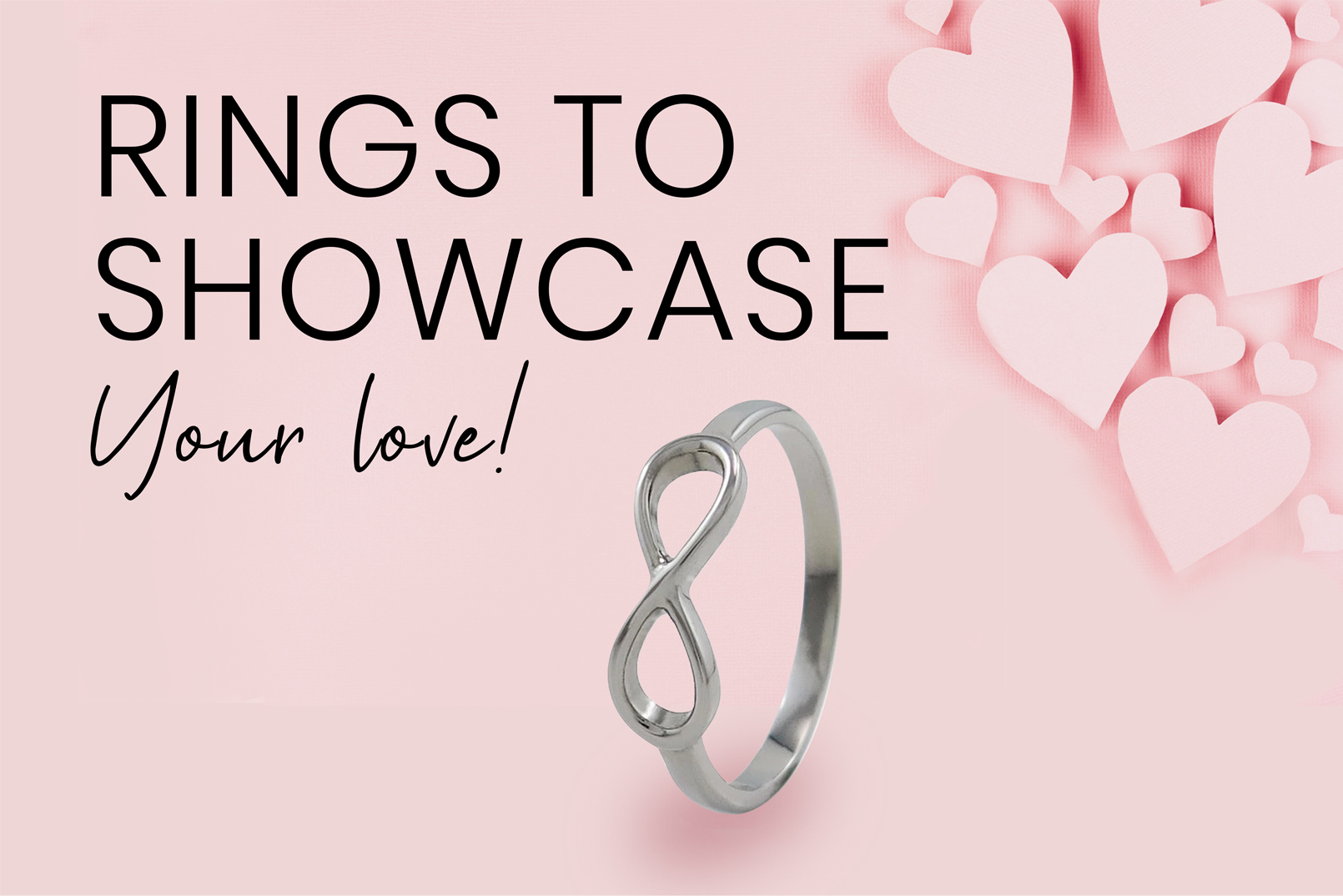 Giving a ring on Valentine's Day doesn't have to signify that you're getting engaged. A ring can just be a thing that signifies your enduring love for your significant other – no matter what stage your relationship is at. 
This post will outline the stunning range of Titanium Rings that are sure to showcase your love for your beloved – and anyone else who happens to see them wearing it! 
Valentine's Day
Rings for Her
Commitment rings are a beautiful way to demonstrate your love for your partner. They can be worn on any finger, or even on a necklace. Though it is most common for them to be worn on the ring finger – keep that in mind for sizing. 
Titanium Rings have an incredible range of promise rings she'll love. 
Our favourites include the Asian-inspired Soulmate Ring, the timeless titanium Forever ring, and the artistic Amore ring.  
Each of these stunning rings are available in a range of finishes and colours. So, it can be perfectly matched to your partner's style, taste, and preferences.  
If you're not sure which one is right for her, check out our blog "Which Rings Suit Her Best?" for ideas.  
Valentine's Day
Rings for Him
Valentine's Day is a celebration of love. There's no reason you can't give your boyfriend, husband, or other significant male a ring symbolizing your love for them on the most romantic day of the year.  
We love the thoughtfulness behind the Men's Abyss Ring. The ring design features a heartbeat – it can come from you, your child, or someone else close to his heart. Simply use an app to record your heartbeat or send us an image of your ultrasound. 
This spectacular ring comes in a wide range of colours and can easily be engraved – making it even more heartfelt. 
Matching Wedding Bands
Nothing signifies your deep and enduring connection quite like matching wedding bands. Titanium Rings offers a range of matching wedding bands in designs that will match any taste. If you're looking to get married in 2020, purchasing matching wedding rings for Valentine's Day is the perfect way to ramp up the excitement for your big day! 
For something cool and classy, we recommend the Hummingbird design. For those of you looking for something sleek and understated, the Eclipse ring might be more to your taste. 
Or, for something truly unique, we're more than happy to bring your dream ring to life. Since our titanium rings are made to order, we're more than happy to work on whatever design you have in mind. Find out more about creating your own ring here. 
Engagement Rings
Of course, if you are thinking about getting engaged, Valentine's Day being around the corner might have you feeling inspired. Getting engaged on the day of love will ensure it's a day that holds meaning to both of you for your eternity. 
Our Be Mine Collection is currently being offered at up to 25% off and features everything you need for a romantic engagement. We've even brainstormed 4 ideas for a Valentine's Day proposal for you! 
Whatever you choose to do this Valentine's Day, Titanium Rings has the perfect ring for you. Take a look through our Valentine's Collection for inspiration and ideas. Or get in touch if you need a helping hand.    
And since we LOVE love, our customers will receive 25% off sitewide and 15% off rings with real diamonds and gemstones.      
Contact us with any questions. And don't forget to keep our shipping times in mind for your Valentine's Day gift.
Jan 23, 2020

Category:

News
Comments: 0