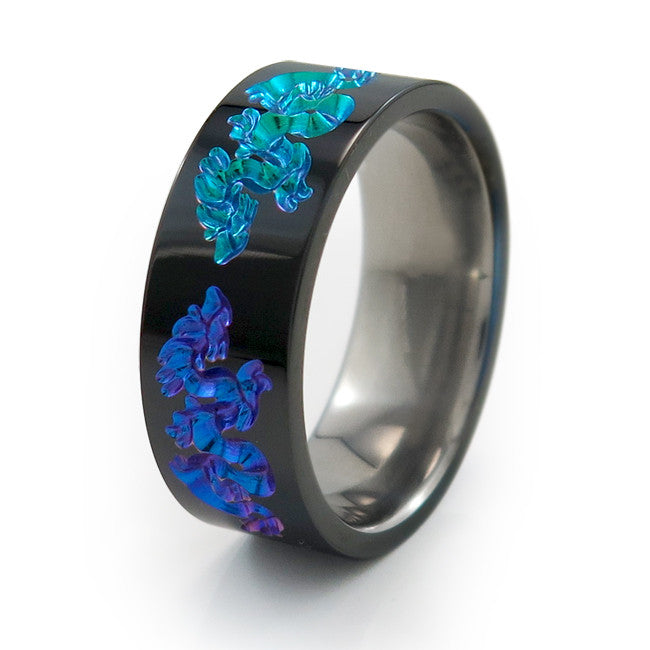 You love your elegantly designed titanium rings.
You love the merging of beauty and strength, of its power beneath its light weight feel in your fingers. You bask in the thought that you need not worry about itchy fingers because it is hypoallergenic. And yet, it didn't cost you as much as traditional jewelry metals normally would.
Something wonderful happened with your favorite titanium diamond ring, women's titanium rings with diamonds, black titanium rings, black titanium rings for men, or women's black titanium rings. Titanium rings has made it even more exciting for you. On top of its classic designs, titanium rings has a variety of colors to make your titanium ring extra special
Color! Choose from two ways of coloring: enameling or anodizing your titanium ring.
If you opt for enameling, you can have a close-to-endless choice of colors! Dreaming of owning a glow in the dark ring? Titanium rings can do it for you. You can have your ring personalized by adding a vibrant anodized color. You may also want it to have two or more hues in the same ring for a more dazzling result.
For anodizing, you can choose from a variety of most popular color options like blue, yellow or magenta. Or you can make a special request when you order your ring for the two other colors not yet released named ice blue and chocolate. Let us take you to some of these impressive titanium rings we are talking about. Synapse - Colored Titanium Ring This wedding band is perfect for those who love both cool and ruggedly classic designs. Its twist and sporty charm is enhanced by featuring two shades in the same ring, that is named shifting purple.
This offset groove, domed Zazu Titanium Ring gives this ring a classy appeal. This Titanium ring is a great choice for men looking for an everyday ring, or a wedding ring that is trendy and rugged.
This classic dome titanium ring emerged into a classic beauty by the addition of a single groove carved towards its edge. You get to choose your color to make it more personal and special for you and your loved one. Electra Solitaire Titanium Ring 
Every woman will surely love this beautiful ring. The exquisite and elegant setting of the stone in the slender band and the touch of her favorite color makes your titanium diamond ring just the perfect engagement ring. Aside from these designs, there are so many other rings, options and colors available you will find on the website. You may choose one of your favorite colors to add to your ring or the "shifting purple" design, which changes from blue to purple. We are also bringing back the spring green color on black titanium rings! If you love wearing your titanium ring daily, the color may fade. Good news is that you receive free refinishing for life on your rings at Titanium Rings.
May 01, 2015

Category:

News
Comments: 0