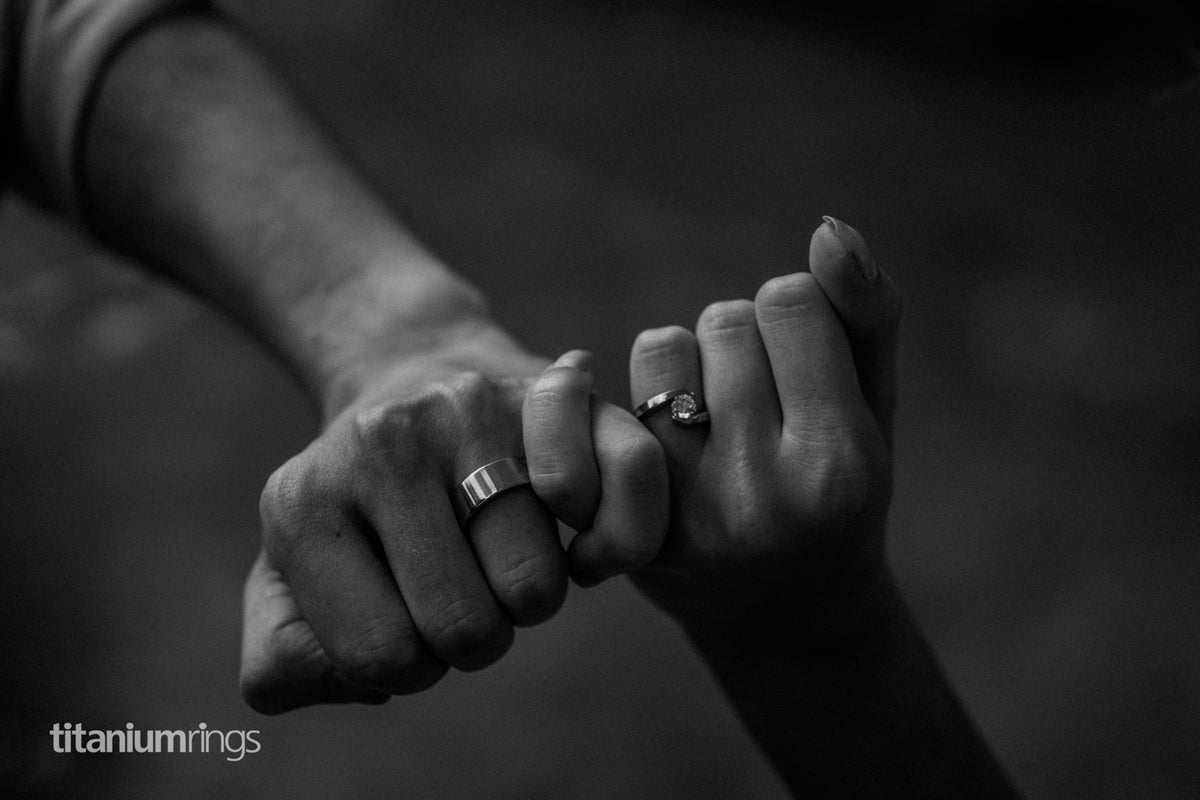 After two+ years of keeping our distance because of COVID, it does not come as a surprise that more people than ever are planning to get married and throwing big weddings. With all the cancellations and postponing many couples went through, it makes sense that now that restrictions in North America have eased up, people want a party to celebrate!
However, big weddings aren't translating to the types of wedding and engagement rings and bands being purchased. Many of the trends right now show that minimalist rings are the hot new thing. And why not? Minimalist rings harken back to classic ring styles - which have the benefits of being versatile, timeless, and elegant.
What Makes a Minimalist Ring?
So many things! Minimalist rings can be unique, classic, vintage, or anything in between - just usually not big, clunky, or complicated. Our minimalist ring collection proves that sometimes less is more (especially with titanium bands).
Who Are Minimalist Rings Popular With?
All sorts of people. Maybe a bride who prefers her ring not be so flashy, or a groom on the receiving end of a proposal (engagement rings are for men too!), or a couple who would rather splurge on a grand honeymoon or wedding experience than material possessions.
Minimalist rings are also having a moment of overlap with gender-neutral ring options due to simple designs that are appealing to men, women, and anyone on the gender-fluid scale.
What if Minimalist Rings Fall Out of Fashion? Will I Regret Getting One?
Highly unlikely! As we mentioned earlier, a lot of minimalist rings are based on classic designs that remain timeless and beautiful for ages to come. You can also opt for custom wedding bands (which we offer) that help feel like your rings are perfectly designed for you.
And ultimately, your ring choice will be based on what matches best with you and your future spouse. But maybe some of our designs (like Bumblebee, Trinary, or Mojo) could tempt you to see if this "trend" is your forever match.
Interested in how titanium can enhance minimalist wedding ring sets? Check out our article: Simple & Minimalist Titanium Ring Styles.
Titanium Rings takes great pride in the unique design of all their rings, customized to each client's preferences. Compromised of a team of designers and machinists with over 20 years of experience, Titanium Rings is the go-to for unique rings. Visit titaniumrings.com to get your custom wedding and engagement rings.
Jul 26, 2022

Category:

News
Comments: 0