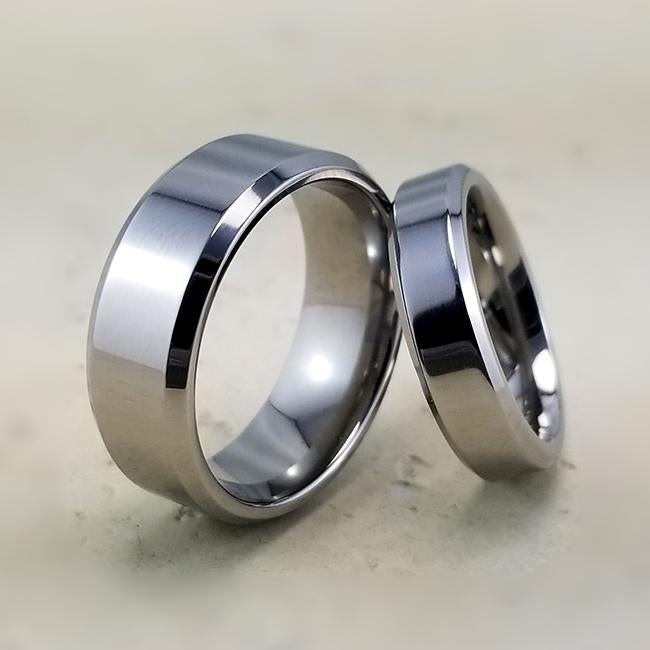 For some of you, it may come as a surprise that women traditionally get TWO rings out of a marriage. 
The first is the engagement ring. That's the one you probably know about already! It's the ring you put on her finger when you ask her to marry you. 
The wedding ring comes on your wedding day. During a traditional ceremony, you'd both place rings on one another's fingers. 
In earlier times, wedding rings replaced engagement rings. But today, they're typically worn together.
Which means they must match!
Matching a Wedding Band to an Engagement Ring
Matching her wedding band to her engagement ring means matching the style, shape, and colours.
We're not saying they all have to be the same. No, they just have to look good together. 
Here are our top tips for finding a wedding ring that works with her engagement ring:
Buy a Bridal Set
It's possible to buy engagement rings that already have a matching wedding ring. This makes choosing the wedding band a breeze. 
These wedding bands are designed to fit seamlessly with the engagement ring, so they're practical, comfortable, and designed to look great together. 
Titanium Rings offers a bunch of matching sets, like the Stella and her companion. 
A perfect pair
Matching Metals
While there's no requirement to match anymore, matching metals are guaranteed to look great together. 
You can get funky with matching metals in different colours. Black and silver look as badass as they do elegant.
Titanium Rings come in both.  
Matching Gemstones
Wedding bands, while traditionally plain and simple, can be as ornamental as you wish. This is true for men's bands too. Find out more in our blog post: Men's Wedding Rings Can Be Stunning Too.
Having a gemstone that matches (or offsets) the engagement ring set in the wedding band is a popular choice! 
Down the line, these gemstones can also be matched with an eternity ring! 
Lifestyle Factors
You thought about her lifestyle when you chose the engagement ring. It's worth doing the same for the wedding ring. 
Titanium Rings are a solid choice for long-lasting rings that can keep up with your lifestyle. Their incredible strength and resistance to cracking and scratching make them perfect for people who like to get their hands dirty from time to time. 
Couple's Rings
Finally, YES couple's rings are a thing. And they're always adorable! 
It sends a strong message that you're in this together. Every day. 
And they look excellent in photos.
The Eclipse matching set.
Custom Wedding Bands
If you've found your dream engagement ring but can't find a wedding ring to match, consider having one custom made. 
At Titanium Rings, we make all our rings to order anyway. So, adding custom details or designing your ring from scratch is affordable and simple. Just fill out our custom order form or get in touch.
Get Your Dream Band From Titanium Rings 
If you've read this article and realized that it's engagement rings you need advice on, check out this blog post about choosing the perfect engagement ring. Don't forget what we've told you though - you'll likely need this advice down the line. 
If you want to order your wedding bands, check out our amazing collection at TitaniumRings.com. 
Mar 20, 2020

Category:

News
Comments: 0