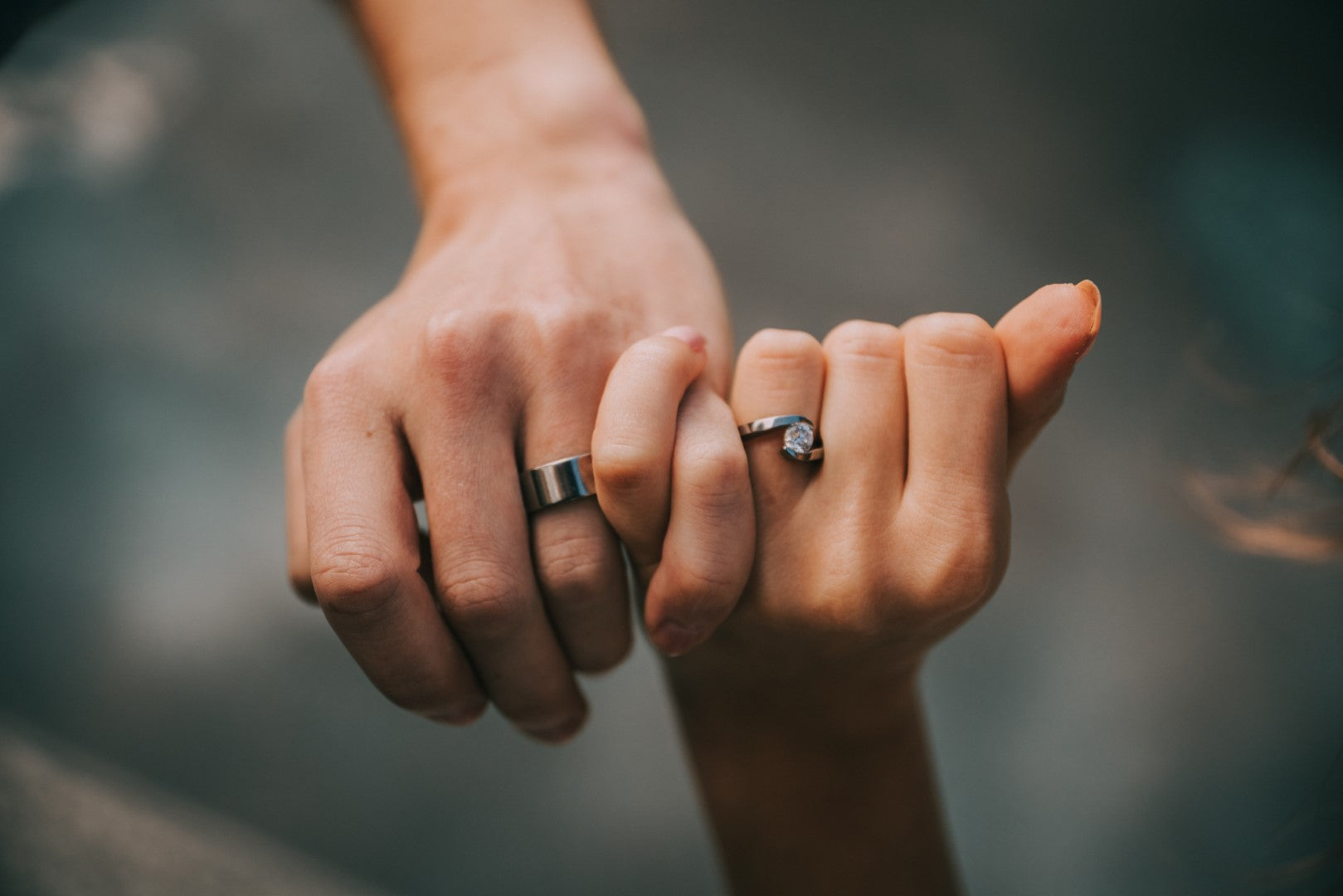 When it comes to planning a wedding, there are a lot of costs that need to be taken into consideration. While finding a wedding venue, photographer and other venues can be straightforward, many couples find themselves wondering how much money they should spend on their wedding bands. Compared to the cost of the rest of the wedding, your wedding bands might seem like a lower item on your priority list, but it is important to do your research on wedding bands to ensure that you aren't overspending. There is no right or wrong answer when it comes to determining how much to spend on a band, as every couple's situation is going to be unique.

In this post, we've taken a look at some of the different factors to take into consideration when determining exactly how much money you should spend on your wedding bands.
What Style Of Wedding Band You Want
One of the first things that you need to determine when deciding how much money to spend on your wedding bands is the style of band that you want. Most of the time, the style you want will factor into the cost. If you are looking for a wedding band that features diamonds for some sparkle, that is going to come at a higher cost than a band that is very simple. Typically, the more detail a wedding band has, the higher the cost is going to be based on the amount of work that goes into making the ring.
What Material Is the Band Made Of
After determining what style of wedding band you're looking for, the next thing to decide is what material you'd like the ring to be made of. Choosing a wedding band that is made of metals such as platinum or gold is going to be higher on the price spectrum than bands made from more non-traditional metals. There are many metals available that can give you the look of a gold or platinum wedding band without the price tag. Titanium is a great metal option as it is often a more cost-effective option than some standard wedding band metals. It is a naturally silvery-grey colour, but can be black diamond treated for a unique, bold look.
Set A Budget & Stick To It
Before you begin searching for wedding bands, it is important to look at your finances and set a budget. Every couple's financial situation is going to be unique, so it is important to set a budget that is going to work for you and your partner and isn't going to cause any financial strain. While it might be tempting to look at every wedding band you can, it is smart to stick with only looking at the rings that fall within that budget. Not only will this help keep you from spending more than you intended, but it is also a great opportunity to explore wedding band options that might not be as popular, such as choosing a non-traditional metal or style.
 Consider Alternative Styles
Ultimately, your
wedding band should be a symbol of your love and commitment
to your partner. Opting for an alternative style of wedding band can be a great way to find something unique and special to both of you. If you are both musical, maybe you want a wedding band that is going to represent your love of music, like our
Treble Clef Titanium Music Ring
. If your partner loves cars, the
Tire Tread Black Titanium Ring
might be the perfect wedding band! There are hundreds of different styles of wedding bands available, so while finding something unique and meaningful might take some time, it is doable!
When it comes down to determining exactly how much money you should spend on your wedding bands, there is no clear right or wrong answer. It ultimately comes down to determining what price point is comfortable for both you and your partner and shopping within that budget. Regardless of cost, you want to find a wedding band that is going to symbolize your commitment and dedication to one another and is going to stand the test of time, just like your love.
Feb 14, 2022

Category:

News
Comments: 0