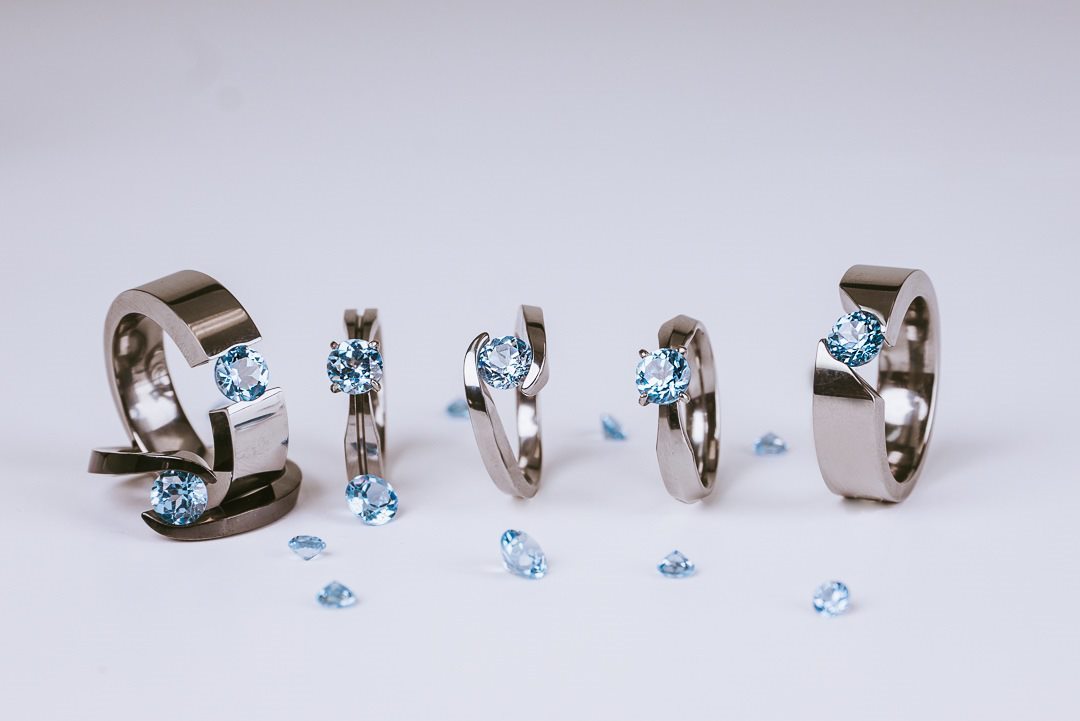 For all you March babies, Happy Birthday! We hope it's stellar.
If you didn't know - the March birthstone is aquamarine. This means a titanium ring with an aquamarine gemstone is the perfect gift for your favourite March-born friend!
What is Aquamarine?
These stunning gemstones come in a range of blues but are usually quite light in colour. 
They come from the Beryl family - so they're related to emeralds. The blue colouring is caused by iron oxides in the stone.
The Meaning Behind Aquamarine
Aquamarine, unsurprisingly, is named after seawater. A long time ago, they were believed to be jewels treasured by sirens that had washed ashore. 
This led to aquamarine gems having a reputation for healing, hope and protection. Sailors used them in protection amulets designed to ward off poor weather and other perils, like sea monsters. 
The stone's colourful past has cemented its reputation as a symbol of youth, hope, health, and fidelity. It's commonly used in birthstone jewellery for those born in March and as an anniversary gift for married couples in need of a soothing influence. 
The Perfect Birthstone for March
There are three reasons that make aquamarine the perfect birthstone for March: 
1. The lovely blue is the perfect complement to the less wintry attire you'll be putting on now that spring has sprung. 
2. They conjure up feelings of serenity and bliss, mimicking your feelings now that the sun has returned.
3. And those hot-headed Aries might benefit from the endlessly soothing tone of the aquamarine stones.
Aquamarine Rings for Women
Aquamarine's icy blue colouring means it complements a wide range of skin tones. In fact, we're yet to come across a finger it doesn't look great on!
It also makes aquamarine perfect for unique statement jewellery pieces, like our Stella solitaire ring in black.   
Aquamarine Rings for Men
Birthstone rings aren't just reserved for women. Men can benefit from the amazing qualities of aquamarine too! 
Since titanium is highly resistant to bending and cracking and has good scratch resistance, it's the perfect material for men (and women) who like to get their hands dirty.
The characteristics of titanium mean that it can keep a stronghold on our gemstones. And Titanium Rings will reset your stone (according to the terms of our warranty) if it comes loose or falls out, free of charge. 
Titanium Aquamarine Rings
At Titanium Rings, we sell AA-quality aquamarine gemstones. Our stones have an almost transparent blue colour and might have moderate inclusions. 
We offer a round brilliant cut on our aquamarine rings. 
Buy Your March Birthstone Ring
Aquamarine rings are a timeless classic in the world of gemstones. Set in a Titanium Ring, they'll be a timeless classic in your wardrobe too.
The stone can be associated with romance, so it's the perfect gift for a loved one born in March. But its reputation for healing and safety means you can give it to friends and family faux pas free!
Click here to view our Aquamarine collection.
Custom Titanium Aquamarine Rings
We're sure you'll love our range of made-to-order aquamarine rings. But if you've got something more specific in mind, we're happy to work with you to bring that idea to life.
Our rings are all made on demand anyway!
As always, feel free to get in touch with any questions.
For the month of March, get 40% off Aquamarine gems!
Mar 03, 2020

Category:

News
Comments: 0