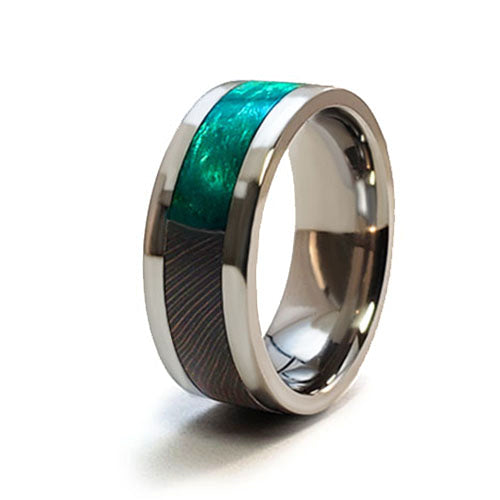 When it comes to crafting a ring that lasts forever, titanium is a perfect metal to use. Alongside this metal is a new element that brings eternal beauty. Like the trees they came from, wood inlay brings a whole new look to our titanium rings. Each ring is slightly different due to the grain of the wood, making the wood inlay in each titanium ring unique to its own. Check out some of the wood inlay rings available and why they stand out amongst
Red Amboyna Titanium Wood Inlay
Red Amboyna Burl is an exotic wood highly sought after, making it perfect for a gentlemen's choice as a wood inlay titanium ring. Amboyna originates from Ambon Island in Indonesia, where most of the tree resides. It has a reddish-brown colour and is generally utilized for fine furniture. This ring still holds class while maintaining a natural lustre, making this ring perfect for weddings. Go modern and try a wood wedding
Purple Curly Maple Burl Titanium Wood Inlay 
This style is excellent for women. The purple tone of the curly maple gives a ring a fun technique, while the titanium borders keep the ring looking elegant and edgy. Maple is, of course, found on Canadian soil and has many attributes creating an iconic appearance. This style makes a great wedding ring for women looking to bring some edge to their style.
Box Elder Burl Titanium Wood Inlay
This titanium ring features a multicoloured resin over a box elder burl inlay. Box Elder is also known as Manitoba Maple or American Maple in Russia. The tree itself can grow up to seventy feet, yet it only has a trunk size of three and a half feet. The burls are very fine and contain exquisite detail. This ring stands out amongst the crowd with its multi tones and titanium borders.
Black Locust Burl Titanium Inlay
This ring is yet another beautiful ring to make the star of the show on your wedding day. Black locus is generally found in Ontario, Nova Scotia and British Columbia. The tree can withstand many living conditions and is known to reproduce rapidly. Complete with a turquoise/emerald green resin, the wood inlay of black locust will have everyone asking where you got the ring.
These four among many more are creating a statement in the world of wedding rings and fashion. The wood itself is just as strong as the titanium that surrounds it. Make a Wood inlay Titanium Ring your choice for wedding bands, and you won't be disappointed. When it comes to crafting a ring that lasts forever, titanium is a perfect metal to use. Alongside this metal is a new element that brings eternal beauty. Like the trees they came from, wood inlay brings a whole new look to our titanium rings. Each ring is slightly different due to the grain of the wood, making the wood inlay in each titanium ring unique to its own.
Check out some of the wood inlay rings available and why they stand out amongst the crowd.
Apr 01, 2021

Category:

News
Comments: 0