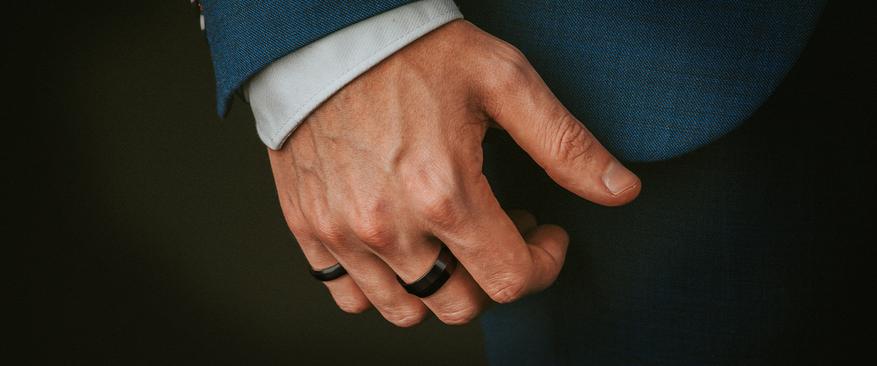 Why go for the traditional style wedding ring when you can get married with something that has a bit more edge. Our black titanium wedding rings are designed for strength and style, all packed into one great symbol of love. We curate black titanium wedding rings by applying extreme heat to a specific type of titanium. The black titanium is finished in a special diamond-like coating, making them strong inside out. Here are some of our favourite black titanium wedding rings.
The Stella is a true favourite of ours as it features modern elegance. The design has a diamond or gemstone floating in a flowing wave. The engineering of this ring was made to hold the diamond secure in the centre of the wave, leaving people in awe as you wave your hand.
The Apex black titanium wedding band is an excellent ring for women and men as it has a simplistic yet sleek design. The ring features bevelled edges that create a natural hue and change in colour from the front to the side of the ring. The glossy black exaggerates the edge of the square cut ring. Of course, if you like the style but no the gloss, we have the Apex also available without the two-tone shine. The design itself is very gender neutral and can complement the dainty finger of a woman or the more robust hand of a male.
The Abyss Tension black titanium wedding band is a remarkable statement for those looking to wear a bolder style. The ring has a well-defined band with square, grooved edges. The gemstone or diamond of choice is reinforced between the ring to maintain a classic lustre and grace in the design. This ring compliments those couples who are unique but still want some traditional looks. The Abyss is best suited for women who want a bit more edge to their wedding band or men looking to add a gentle feature without risking sleek design.
The Meghan was made for engagements but is quite suited to be a wedding band as well. The black titanium ring compliments those who want to upscale their gemstone features on a wedding band. The one-of-a-kind creation features triple tension settings that hold your diamonds or gemstones tight in a triple wave of black titanium. The Meghan contains a 6mm diamond in the center accompanied by two 2-4mm gems on either side. This ring is for women who want a bit more bling to their wedding band or engagement ring.

We carry many more exquisite black titanium rings such as the Moderna, a conservative baguette tension, gemstone setting ring. We also have other amazing rings such as Synapse, the Zuzu and more. Our black titanium rings are one of the most popular, sought-after ring collections we offer. Many people who look to add some modern edge to their wedding bands reach for the black titanium wedding rings. Of course, they don't always have to be for a wedding. Rings like Facia, Taboo and Etoile make great casual accents to your everyday wardrobe as well. 
Whether a marriage or a gift to yourself, check out our Black Titanium Ring collection today!
Jul 20, 2021

Category:

News
Comments: 0