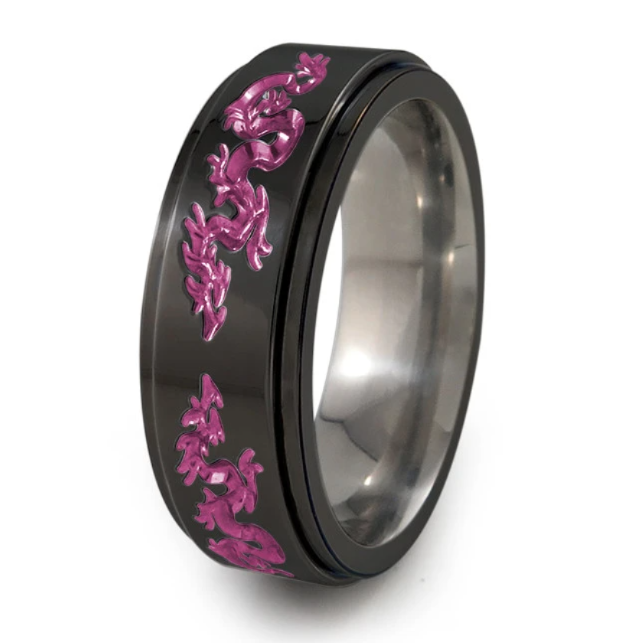 Titanium Rings are brilliant. They're durable, lightweight, and scratch-resistant, so they're ready to keep up with you on your summer adventures. Plus, they can be easily customized in a range of colours - making them the perfect accessory to brighten up your day, every day. 
Anodizing Titanium to Create Colours
Your titanium ring won't be coated in colour. Instead, it goes through a process called anodization - which is actually pretty neat.
Essentially, an electric current is intentionally run through the titanium to increase the level of oxide in the surface of the metal. This changes the colour and, by controlling the process, a range of colours can be produced.
Our anodized colour options are Magenta, Shifting Purple, Blue, Teal, Spring Green, Gold and Rose Gold.
Protecting the Anodized Colour on Your Titanium Ring
While it's not a coat that's painted on, the colour achieved by anodizing your titanium ring is still technically a 'surface' finishing. 
To protect the colour from wear and direct contact, we apply our anodizing colours into recessed areas in a ring - like in our carvings or grooves.
Maintenance on an Anodized Ring
Much like any ring, our anodized ring will require maintenance and touch-ups over time to stay vibrant! 

Re-anodizing your titanium ring is part of our titanium rings warranty.
What do Anodized Titanium Rings Look Like?
Vibrant. Funky. Fun. Fascinating.
Check them out!
 Shooting Stars
Fidget Spinner 

Titanium Ring 
Dreamers, superstars, and anyone who wants a stellar reminder of the endless possibilities out there  - this ring is for you! 
The stunning design comes in all our anodizing colours. And it spins! 
Fidget nervously (on the DL) or kick that nailbiting habit with something much prettier. 
Treble Clef Titanium Ring
This timeless classic-profile titanium ring is ready to become your signature piece. The anodized accent might hint at your creative side - or playfully remind you of your favourite song. 
The Guinevere - A Celtic-inspired Titanium Ring
The Guinevere is a powerful piece of wearable art that symbolizes a woman who naturally embodies all that is good in the world. Wear it to be reminded of all the vibrance, positivity, and power that exists around you every moment. 
Heartbeat Titanium Ring
Imagine having the beating heart of your baby or loved one expertly engraved onto a timeless and everlasting titanium band. Then, picture having their favourite colour shimmering around their engraved heartbeat. 
That's what you get with our Heartbeat Titanium Ring. 
High-Quality Anodizing Titanium Rings With a Lifetime Refinishing Warranty
All our Titanium Rings are made to order, so it's easy for us to customize the rings however you want. 
Whichever colour, whatever design - your wish is our command. 
Get in touch with our customer support (support@titaniumrings.com) or contact us for more information about a custom ring. 
Or order yours on our webshop!
And brighten up your summer.
Jul 10, 2020

Category:

News
Comments: 0