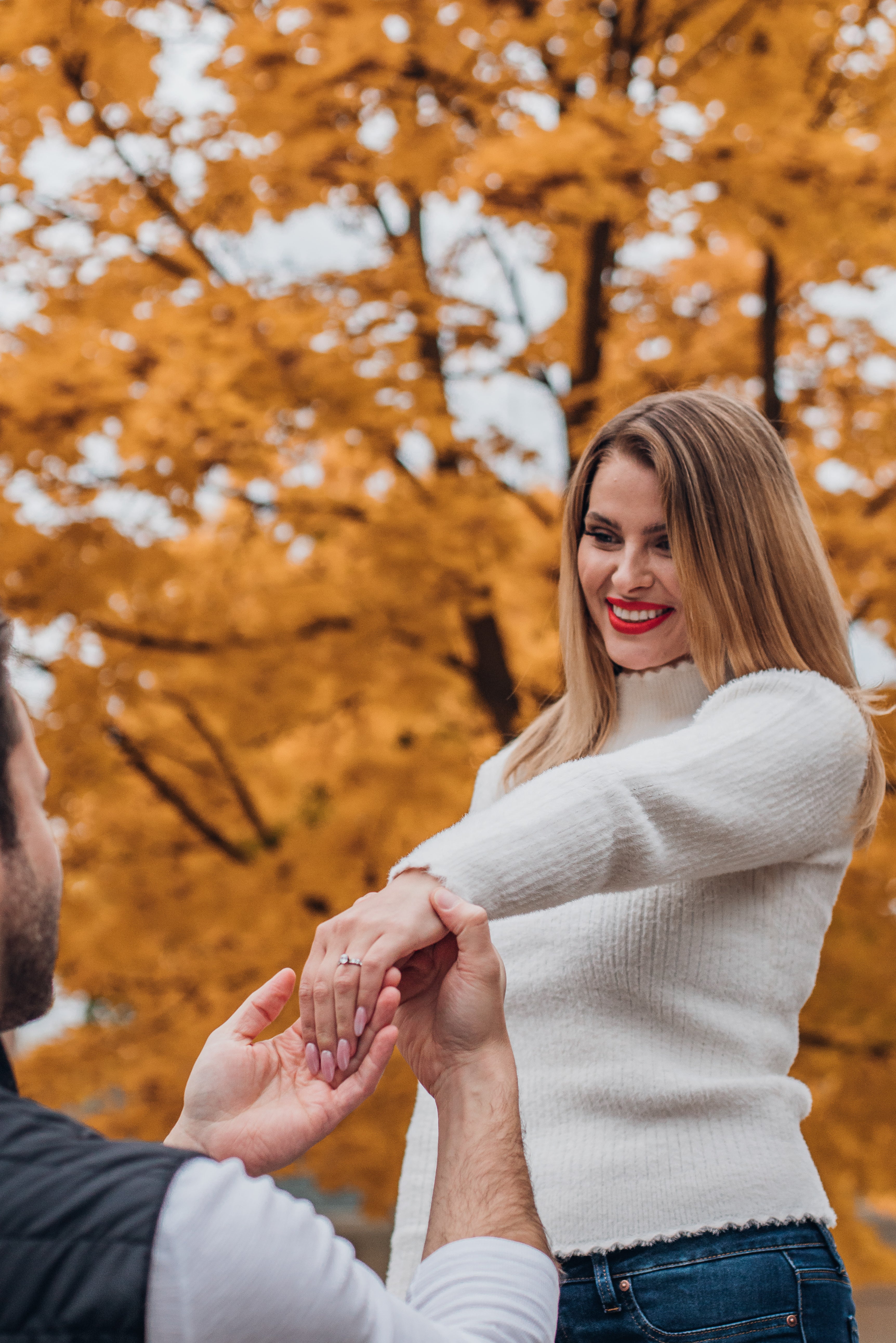 You have wanted to ask her forever, and you have the ring, now how do you do it? It is every man's dream and nightmare all rolled up into one four-worded question. Do you do it in front of the family? On a beach? Do you send a message or ask? Do you play music, or is the sound of silence much better? Well, let us help you. Here are five romantic proposal ideas for this fall!
1. Pumpkin Carving
It's a great way to pop the question and set yourself up for the perfect proposal. Take her to a pumpkin patch, one that is a bit quieter than the rest. Get a staff member to hide the ring box near a row that she will be walking down. Make sure the ring box stands out and is halfway down the row of pumpkins. Let her pace a bit ahead and tell her you to want to pick some pumpkins out. While she's walking down the row with you, she will spot the box. That's when you pop the question. Feel free to hire a photographer to get some shots from afar.
2. Is she into sports? Propose to her during the first fall game!
Whether football, hockey, or soccer, get her out in her best to her favourite sport. Make sure you have a full set up of blankets and hot chocolate so that she doesn't get cold during any of this. When her favourite team scores, or when she is getting into the game, grab her and tell her you are ready to play the biggest game of your life, and you pretty much scored the best girl ever. That's when you pop the big Q!
3. Fireside Proposal
This one is cozy! Set up a back yard fire complete with flannel, hot cocoa (or some baileys and coffee), candles, s'mores or a charcuterie board, and all the other fall feels. When she is all settling and cozy beside the fire, ask if her hands are warm while grabbing her left. That's when you get down or up to one knee. She will remember this forever!
4. The Winery Proposal
Wineries in the fall are always gorgeous. Now is the perfect time to pop the question. Find a winery that is well known for the scenery in the fall and take her out to lunch. Make sure you are allowed to walk through the vineyard and take her for a stroll. When you make it to the perfect spot with the girl of your dreams, get down to one knee and make her life complete. The vineyard is also a great spot to hide a photographer!
5. The Halloween Proposal
This one is for the Halloween lovers out there. Invite her over for some pumpkin carving or to hand out candy to kids. Beforehand, carve four pumpkins with the words, "will you marry me?" Bring her over and hang out for a bit. Once she is comfortable, make the surprise! Light up the pumpkins and tell her you did some carving of your own. Bring her outside to see your question. Your efforts will make for a "spooktacular" night to remember. 
All of these will amaze her and forever be in her memories! To make your proposal easier, shop our engagement and wedding rings online. We will save you the search so you can focus on the moment! 
Sep 25, 2020

Category:

News
Comments: 0