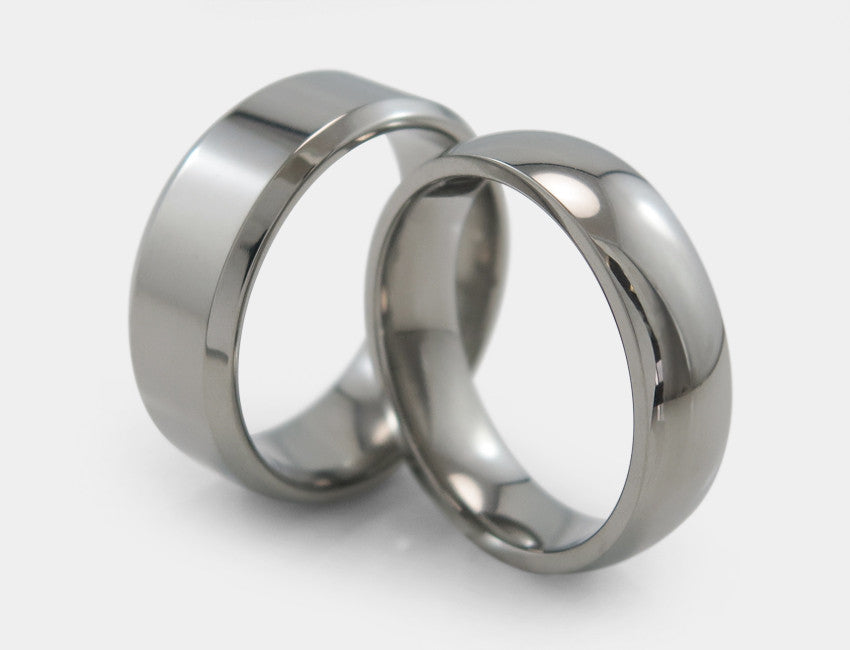 If you have an active lifestyle or require a bold and rugged design, this ring is definitely for you. Its black diamond plating finish is scratch resistant and its anodized color lends a touch of sophistication despite its classic style. Adding to its appeal is the interesting story behind this band. Anyone who had watched "The Abyss" could see that this similar ring was prominently displayed in the movie. 
The Amore color anodized wedding band is a sure eye catcher. The exquisite deep Celtic heart carvings around the ring perfectly depicts profound and lasting love. The craftsmanship is excellent and anyone wearing this would surely be proud of this work of art. What is more exciting with this ring is that you can personalize the tone by making the hue richer or putting one or two more shades to your preference.   
The best way to describe the Samurai is cool and rugged. The jet-black finish is even more enriched by the white natural titanium color on the inside of the ring. This could be a great everyday ring for the men although a lot of females have loved wearing this too. Its scratch-proof feature and resistance to marring are two of the reasons why it is so popular.  
This is another version of the Amore ring, in a rich black diamond finish. This ring also features its now famous deeply carved Celtic heart inspired design, very powerfully depicted and enhanced in its gorgeous, glossy black color. Since this is made of solid block of aircraft grade titanium and synthetic diamond coating, one could be assured of its durability and scratch resistance. Simply a perfect symbol of an enduring love.  
This is a very handsome ring that showcases the spectacular blend of natural titanium hue and the deep glossy black. Its strong beveled edges emphasizes the clean linear design. The Two-Toned, Apex titanium ring is very flexible and one can add gemstone settings to make it look more stunning. This is a very popular wedding band design. According to your preference, it could also be crafted with a flat top surface instead of the beveled edges. 
Titanium rings have gained strong popularity because of its durability and comfort. You not only have a durable and an elegantly designed ring but, you also do not have to worry about any discomfort when wearing them because they are hypoallergenic and light weight. Visit our site at http://www.titaniumrings.com/, our reputation for quality speaks for itself.
Apr 18, 2018

Category:

News
Comments: 0