100% Manufactured in North America with U.S. Aircraft Grade Titanium
The original titanium workshop since 1997 | Lifetime warranty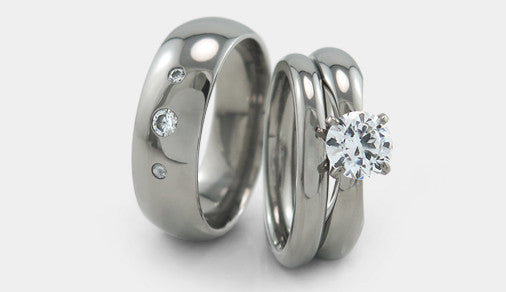 The ring is a symbol of never-ending love. Shop our titanium wedding and engagement collection to find your perfect ring style, crafted from everlasting Titanium.
Titanium Wedding Rings

There is no better way to show your love and dedication to one another than with a titanium wedding ring. Choose from a wide variety of styles, from an elegant, simple wedding band to a bold, unique black titanium wedding band. Express yourself and your love for one another with one of our dozens of styles of stunning, durable Titanium Rings.

Titanium Rings For Brides & Grooms

What better way to symbolize your love and commitment to one another than with matching his and hers wedding bands? Whether you want a classic, simple band or a unique style that will show off your personality, we offer a wide variety of Titanium Ring styles to choose from. Built from incredibly durable U.S. Aircraft grade titanium, our rings will stand the test of time.

Elegant and unique men's wedding rings made from titanium

Make a statement on your wedding day with one of our dozens of styles of men's titanium wedding bands. With designs that range from elegant and simple, to rugged, to bold and unique, you are guaranteed to find the perfect ring for your special day. Whatever your selection, our rings are all expertly crafted to provide maximum comfort and durability.

100% Manufactured in North America with U.S. Aircraft Grade Titanium

Designed to withstand the test of time, our wide selection of U.S. aircraft grade Titanium Rings are the perfect choice for day-to-day wear. Built from one of the strongest metals for wedding rings, Titanium rings are both durable and extremely comfortable. From simple, classic designs to bold, unique styles, you are sure to find the perfect ring for whatever the occasion may be.

Browse our range of Men's Titanium wedding rings and more

Whether you are looking for a classic, traditional wedding band or something a bit bolder like a black titanium wedding band, you can find exactly what you are looking for in our large selection of durable Titanium Rings. Our rings are made with U.S. aircraft grade titanium and are 100% manufactured in North America, making them extremely durable while maximizing comfort.